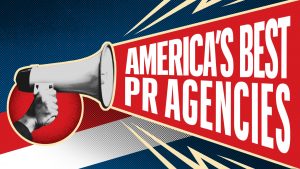 Specializing in education, healthcare, nonprofits, and food and beverage, Rosica Communications has been named to the Forbes List of America's Best PR Agencies. Rosica is one of only 200 firms selected from 5,000 PR companies that were nominated.
For more than 40 years, strategic counsel has been at the core of Rosica's offerings. Our clients and staff have long tenures with our firm, which speaks to our ability to consistently innovate and evolve the industries we serve and services we offer. Over the years we have won numerous awards for our breadth and caliber of expertise in media relations, thought leadership, influencer marketing, content development, cause-related marketing, digital marketing, special events, and social media marketing.
"We're thrilled to be named to Forbes' inaugural list of America's Best PR Firms. The fact that we were nominated by our clients means the world to us," said agency President Chris Rosica. "In this always-evolving communications environment, our clients rely on us like never before to build their brands, protect their reputations, and gain exposure. With our combined strength in traditional and digital communications, we help them navigate and advance with notable success. This recognition from Forbes signifies that our clients acknowledge and appreciate our commitment to them."
Forbes partnered with research firm Statista and surveyed more than 20,000 PR agency clients and 12,000 PR experts to develop the list. Respondents were asked to nominate PR agencies with which they had experience working. As part of the survey, agency ratings were determined after the 5,000 nominations were collected. Participants were asked to indicate how likely they were to nominate a particular agency on a scale of zero (very unlikely) to 10 (very likely). Statista then identified those firms with the highest number of recommendations.
Read the article here: https://www.forbes.com/lists/best-pr-agencies/#135b60b1476d
Updated on 6/23/22