The Salvation Army's red kettles and bell ringers usually mark the start of the Christmas season, but The Salvation Army Greater New York Division needed to do something big to launch the holiday giving season. On Monday, December 1, with the help of Rosica Communications and other partners, including the Times Square Alliance, the World's Largest Red Kettle was unveiled in New York City's Times Square.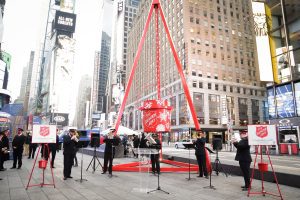 The Giant Red Kettle, part of The Salvation Army's "Rescue Christmas" campaign, stands at 8-feet-tall and hangs from a 32-foot-tall structure. It is covered in LED lights that sparkle whenever someone donates and has a text-to-donate feature. It will travel around New York City throughout the month of December and return back to Times Square just in time for Christmas.
"The Salvation Army has one mission: to do the most good every single day," said Lieutenant Colonel Ricardo Fernandez. "This year, the challenge is greater than ever before, and we are taking giant steps to meet it. We are placing our Giant Red Kettle in the middle of Times Square as a beacon to help feed, shelter, and provide a Merry Christmas to thousands of New Yorkers struck hard by COVID-19. This will be a new tradition to bring hope and to help those in need."
The Salvation Army's need for donations is rising during the escalating pandemic. With more than six million meals being served to those in need since March, it is projected that 6.6 million more people will need assistance in the coming weeks. Donations made to the Giant Red Kettle will be used towards The Army's efforts of providing those in need with hot meals, coats, and children's toys for the holidays.
With the help of Rosica Communications' nonprofit PR practice, Giant Red Kettle stories were secured on CBS This Morning, CBS This Morning Podcast, WCBS-TV New York, WNBC-TV New York, Good Morning America, Time Out New York, amNY, 6sqft, CBS Miami, Bloomberg, Reuters, New York Post, WABC-TV New York, WPIX, WNET-TV, 1010WINS Radio, FOX Radio, FOX News, NBC Radio, and the Associated Press.
Please show your support and help the number one COVID-19 relief organization in America by texting GiantRedKettle to 41444 or visiting www.giantredkettle.org.