TikTok has quickly emerged as a dominant social media platform that all digital marketers should pay attention to. The platform allows users to post videos ranging from 15 seconds to ten minutes and has quickly taken the world by storm with over 1.5 billion active users. In the first three months of 2023, TikTok surpassed Instagram as the most downloaded app. Nonprofits and for-profits alike are using TikTok to raise awareness for their brands, share information, display memorable visuals, and attract new audiences. 
There are a number of statistics that point to the power of TikTok. In the platform's own words, "TikTok is where entertainment and commerce intersect, and it's transforming how brands connect with their audiences, drive purchases and find success." According to one study, 84% of TikTok users say it's a source for discovering or learning something new. This insight is the greenlight that should prompt nonprofits to begin sharing stories on TikTok that communicate the impact the organization is generating. This data tells us that most organizations can benefit from using TikTok as a tool to reach new audiences – particularly nonprofit organizations looking to engage younger audiences and spread awareness to a new generation of donors.  
If you're hesitant or need more insight into what it takes to integrate TikTok as a marketing tool for your organization, read on.  
Evaluating stakeholder priorities now and into the future
TikTok's base largely consists of young users, with more than 50% of app users under 32 years of age, and over 41% of users between the ages of 16-24. If your work is focused on education, youth services, or health services, TikTok could be a valuable way to elevate visibility among that audience. Alternatively, if your organization serves an older demographic or has supporters who are, say, 45-75, TikTok can help you establish credibility and connectivity with future generations of supporters.  
In today's digital age, many nonprofit organizations are looking for ways to cultivate younger donors and raise awareness. So, when creating social media programs, it is essential to evaluate whether a particular platform can help you reach your stakeholders – or educate younger audiences to sustain the future of the organization.  TikTok is an excellent platform to achieve this mission. 
The time required to implement a TikTok program 
TikTok relies on its users to create video content, which requires organizations with active accounts to dedicate time weekly to manage its online presence. It is important to be intentional about your social media presence – it is better to be extremely active across three platforms than inconsistent across six. The most successful TikTok creators post multiple times each week and devote time to video editing. Assess if there is a social media staff member or intern who can devote time to TikTok. Strive to create a content calendar and see if you can seamlessly integrate TikTok as a part of it. If (consistent) video curation adds too much of a burden to your staff, know this: you don't need a fancy video camera or an experienced videographer to develop your content. In fact, smart phones are responsible for 95% or all TikTok content. People flock to the platform for its organic content – not highly produced videos.  
Although TikTok takes extra time, the additional work will pay off, since TikTok videos can easily be uploaded to other social channels.  
If all the above apply to you, then now is the time to develop your TikTok Strategy. Read below for three best practices.  
Stay on trend
TikTok is home to millions of content creators, and staying in tune with trends on the app is an important way to make your content stand out from the crowd. There are constantly new trending sounds or video themes that circulate on the app. Being aware of these will ensure your video is more likely to reach a larger audience and receive higher engagement levels. Utilize the Discover section of your feed to keep an eye on high-performing content and sounds that your organization can personalize and recreate. The #ForYou hashtag is one of the most-used hashtags on the platform, making it a great way to rack up views and stay in the loop with the latest trends. 
TikTok has a duet feature that allows users to jump on trends by responding to videos that other users create. Dueting takes content creation to the next level by providing a split screen that lets users take the stage at the same time and makes resharing more interactive. This feature can be used by nonprofits to create viral moments, disseminate important information, debunk myths, showcase staff members' personalities, or chime in on relevant conversations. TikTok has step-by-step instructions to use this feature.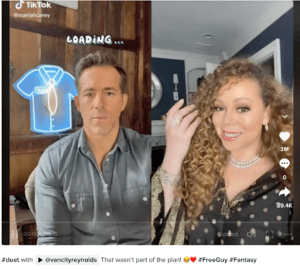 Photo via: TikTok 
Showcase your impact
Through effective storytelling, nonprofits can effectively use TikTok to demonstrate their impact. Get creative and strategize a series of videos that can highlight your organization's mission and causes. This is a great way to get the entire team involved – encourage staff members, supporters, board members, and those you serve (whenever possible) to create direct-to-camera videos about why this work is important to them. Effective storytelling on TikTok is an engaging and interactive way to raise awareness for your cause. Be sure to introduce team members, share behind-the-scenes content, and actively share what your organization [actually] does. Not only will this draw in new supporters, but it will also facilitate stronger and more interactive relationships with existing supporters.  
The Malala Fund, led by activist Malala Yousafzai, is an excellent example of a nonprofit that uses their TikTok platform to show how they advocate for positive causes. The organization's TikTok page has nearly 900,000 followers and regularly shares videos of Malala speaking directly about the organization's latest endeavors, video testimonies from active volunteers, reasons to get involved, and more.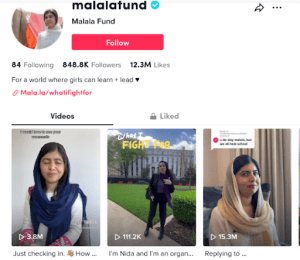 Photo via: TikTok 
Get creative about educating your audience
Social media users want to learn more about causes that matter to them – and can be motivated to learn more if your content speaks to them. TikTok is a meaningful way to educate audiences in our entertainment and edutainment driven society, because it delivers the content they want and consume most often – video.  Think about how to convey the issues your nonprofit addresses and use videos to share interesting stories, facts, and data that compels users to get involved and make a difference . 
TikTok's program TikTok for Good provides account management, advanced analytics, and promotes hashtags to help social impact organizations reach new supporters. Hashtag challenges is another great marketing tool that TikTok offers for nonprofits. Nonprofits can participate by creating a catchy hashtag, creating an action that is easy for others to mimic, and encouraging followers to do the same. When creating this challenge, make sure you establish a clear and memorable call to action. Some successful hashtag challenges, like #CookieWithACause #IceBucketChallenge went viral while concurrently advancing an important cause.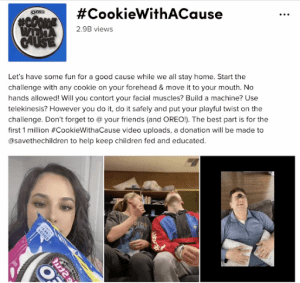 Photo credit: TikTok 
Conclusion
Nonprofits should embrace the emergence of TikTok and strategize content that will best meet their organizational goals. Nonprofit leaders will benefit from approaching TikTok as a smart and timely opportunity to use storytelling and information sharing to reach future generations of supporters. Don't underestimate the number of potential donors, volunteers, and champions of your cause on the app. 
Committing the time to creating and curating video content can be daunting, but with the right people and systems, your organization will find great success in reaching new demographics.