Merck Animal Health: Canine Influenza Vaccine Takes Off Like a Shot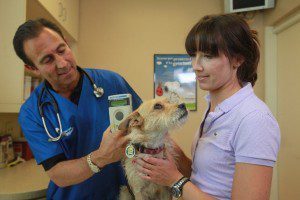 The first recognized outbreak of H3N8 canine influenza occurred among racing greyhounds in 2004 at a track in Florida, yet for many years the disease was not well understood by veterinarians or the pet-owning public – nor even considered a "real" disease. When Merck Animal Health prepared to launch a first-in-class vaccine for the canine influenza virus (CIV), it turned to Rosica Communications.
We developed an educational campaign that focused first on engaging veterinarians and demonstrating the dramatic effects of the vaccine. Our team developed comprehensive materials written at the professional level for use with the veterinarian trade media and converted those materials for consumer media to effectively reach pet owners. We also vetted and enlisted a grassroots cadre of independent academic key opinion leaders (KOLs) to discuss the little-known disease with the media. We media trained this group and established them as authoritative media resources, or "media vets," and deployed them when a CIV outbreak occurred in their market.  Rosica also secured national print and broadcast media for our top KOLs.
To continue to generate fresh publicity opportunities, in our third year, we brokered a highly successful partnership with NEADS, an organization that trains service dogs.  We launched this campaign at the North American Veterinary Community (NAVC) show and produced a public service announcement with a NEADS veterinarian that aired on television, as well as on the Web. We also shared this on social media channels to increase distribution.
Together, these strategic initiatives powerfully reinforced the company's commitment to animal health and its support of veterinarians. The program generated extensive publicity, including television coverage in the top 10 media markets in the first week alone, a widely syndicated article and blog posting in The New York Times, articles in USA Today, Associated Press, Chicago Tribune and popular pet columns.  In five years, we generated approximately two billion targeted media impressions including lead articles and interviews in all major veterinary media and broad pickup in pet-owner magazines and on top pet blogs.