Crisis Communications: PR Puts Out A Fire, Generates Measurable Results
For decades, The Salvation Army has been a lifeline for thousands of people in Harlem who turn to it for food, shelter, emotional and spiritual support, childcare for essential workers, toys for children in need during the holidays, and more. These needs became more severe when the pandemic hit. Since March, The Salvation Army Greater New York Division had provided more than 7 million meals to the working poor, unemployed, displaced, and homeless.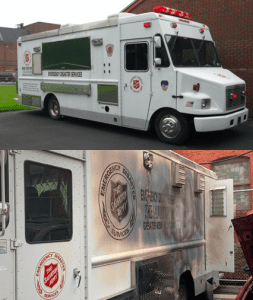 With food insecurity being a primary need in Harlem, The Salvation Army Harlem Corps secured a Mobile Canteen truck with a full kitchen, pantry, and restroom while it was renovating the kitchen in its Corps building. It was serving more than 300 meals a day. It also provided food, beverages, and snacks to first responders, including police and fire, when they were unshakably responding to fires, gas explosions, and water main breaks in the neighborhood.
That's why, when during the early hours of a cold January morning, the vehicles were torched and set ablaze by vandals, there was an outpouring of grief and outrage in the community. There was also a tremendous need to bring awareness to the disaster and raise funds to replace the mobile canteen.
Rosica, a longtime partner of The Salvation Army, immediately stepped in with a results-driven media relations campaign that brought widespread awareness to the issue and communicated The Army's call-to-action – donate to help fix or replace the mobile kitchen.
The result was a sweep of NYC media, with compelling segments on CBS, ABC, Good Day New York, Spectrum News 1, FOX, and WPIX, each with a clear message to donate to the local Salvation Army. The result was remarkable: in just hours, PR alone helped raise more than $30,000.
"When disaster hit in the middle of the night, the Rosica team responded. Within 24 hours, they secured media attention that raised $30,000. They had a direct impact on our ability to serve the community, and that's a true partnership." Lieutenant Colonel Ricardo Fernandez