What is cause marketing or cause-related marketing (CRM) and why is it important?
Cause marketing is a public relations and marketing strategy. By forging an alliance with a nonprofit or "cause," a company can leverage the public's demand for socially responsible corporations and achieve its business objectives. Its relevance and power has never been more important than it is today.
Did you know that up to now, only 5% of all nonprofit giving came from corporations? This indicates that companies must not know the value or understand the impact – on business and marketing. Here are some important facts about cause marketing: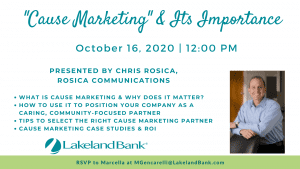 Successful cause marketing can bolster sales, build brand awareness, improve employee morale, help manage or avoid a crisis, create a fresh public relations strategy, all while making a positive contribution to the community

84% of Americans think charitable giving by corporations is important (product, dollars, services) and a company's charitable giving affects nearly three-quarters (73%) of Americans' purchase decisions

Cause marketing demonstrates compassion and community involvement, which leads to improved recognition/awareness, emotional connectivity with customer, and increased loyalty

89% of consumers say they want brands to shift money and resources to produce products that help people meet pandemic-related challenges
In partnership with Lakeland Bank today, Chris Rosica, president of Rosica Communications, presented on this timely topic – highlighting cause-related case studies and instructions from his book, The Business of Cause Marketing. These included:
Selecting a strategic charity/cause marketing partner

Ensuring your cause-related marketing initiatives get noticed

Utilizing CRM to bolster reputation management and impact crisis communications

Executing media events that command attention

Coordinating photo opportunities and visuals that appeal to media, which typically ensures media coverage

Measuring the impact on employee retention and customer and public perception
There are numerous cause marketing examples Rosica's PR agency has been involved with, including Famous Amos Cookies, Rollerblade, Stew Leonard's, HALOLIFE, Healing Hands, Verizon, ShopRite, and numerous others. All garnered print and broadcast media coverage with clear and compelling messages about the company and its mission, and some campaigns won national awards for the results.
When it comes to photo opportunities, here are a few we created, resulting in tremendous media coverage:
"Kicking off" Boys & Girls Clubs week for Boys & Girls Clubs on the 50-yard-line of Giants Stadium with kids, the State Director of BGCNJ, and a former Giants player

Instead of a traditional ribbon-cutting to open a new restaurant in Ridgewood, New Jersey, we created an ice sculpture ribbon and had the executive chef, restaurant owner, and mayor cut the "ribbon" with a chainsaw

Rather than the predictable oversized check presentation to a nonprofit, on behalf of a leading supermarket client, we created the world's smallest $10,000 check – with a giant magnifying glass, which we gave to a hospice organization
These are just a few examples from Rosica's book, The Business of Cause Marketing, that he discussed at this seminar. Rosica says, "Do good and do well."