Eggland's Best: Branding a Commodity Through PR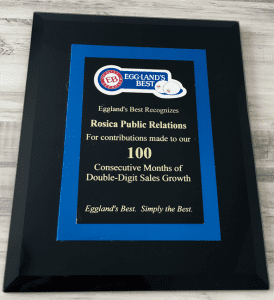 In working with Eggland's Best, Rosica had the challenge of branding a commodity that at the time many consumers didn't perceive as having differentiating features and considered of dubious health benefit. A national media and grassroots community relations campaign successfully established Eggland's Best as nutritionally superior to other eggs and achieved the company's goal to increase customer loyalty and sales, improve its image and enhance relations with franchisees. Rosica trained representatives of Eggland's Best for appearances on morning television shows' cooking segments throughout the country in key media markets.
We secured hundreds of media interviews plus more than 400 feature stories in national magazines and daily newspapers, such as USA Today, New York Times, Wall Street Journal, and Today Show. Eggland's Best eggs were positively featured in national consumer general interest and health publications as well as leading trade publications, including Health, Glamour, Men's Health, Weight Watchers, Natural Health, Food & Drink, Today's Grocer and Progressive Grocer. Eggland's Best enjoyed more than 110 consecutive months of double-digit sales growth. It also benefited because the campaign helped change the perception of eggs from a cholesterol-raising enemy of heart health into a protein-rich super food.