Bridor: Rosica Promotes Bridor's European Craftmanship – Made in America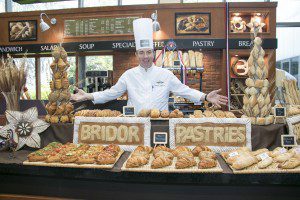 Not all croissants are created equal – and few people know that some of the best are made by an industrial baking company named Bridor. Well-known throughout France and Europe for its high-quality artisan breads and pastries, Bridor had a relatively low profile in the U.S. It turned to Rosica to help establish a meaningful brand, elevate awareness, and generate interest within the foodservice and retail baking sectors.
Rosica partnered with Bridor to develop a brand position that communicated its differentiators: "European Craftsmanship, Made in America." The tagline became the foundation for a communications marketing campaign that encompassed both sales and PR outreach materials. It also served as a "headline" for a media event that celebrated a major expansion of the company's U.S. manufacturing facility. Rosica highlighted the visual aspects of the story, including a two-mile long croissant and pastry conveyor belt, to generate extensive trade, business, and mass media coverage. The result was more than 15 million impressions that underscored Bridor's commitment to the U.S. market and brought its story of European craftsmanship and quality to life. Rosica and Bridor partnered further to introduce a new savory bistro line and even a new artisan baguette. Rosica generated widespread coverage and helped Bridor maximize its potential through integrated marketing and online syndication of earned media.