Exergen: Taking Accurate Temperatures Faster and Easier Than Ever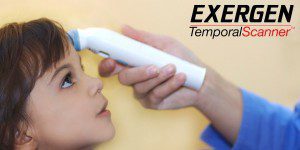 Exergen Corporation, a New England-based company, known for pioneering research that has led to the development of widely used products in the medical, automotive, printing, and building industries, hired Rosica to develop professional, consumer and online advocates for its temporal artery (forehead) thermometer. It sought to generate widespread consumer visibility for the innovative thermometer, the TemporalScanner. The primary task was to build visibility for the device particularly among new mothers and parents, a core strategic market for Exergen. Rosica developed and disseminated to traditional and online media materials explaining the importance of obtaining fast, accurate temperature readings using this noninvasive method, one that minimizes patient discomfort. For medical trade and consumer publications, Rosica developed white papers and reports on studies of healthcare professionals highlighting the advantages of temporal artery thermometry.
One highly effective element of the campaign involved intensive social media outreach with an emphasis on "Mommy Bloggers" who were encouraged to use the thermometer and discuss their opinions of it online. As a result of the media coverage, Exergen experienced a 35% increase in sales of TemporalScanners in 2008 from 2007 and the company expanded operations despite an economic downturn. Thanks to our media outreach, Exergen informed us they were contacted by a buyer for the retail chain BJ's Wholesale Club who had read about TemporalScanners on a Mommy blog and wanted to stock the thermometers. In 2009, company sales rose 400%. Rosica Communications has been Exergen's agency of record since 2007.