Edwin Evers: Reel In More Followers For An Iconic Angler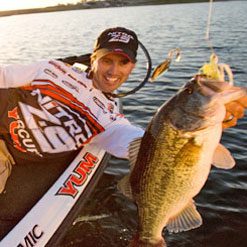 Bass fishing is one of the nation's most popular pastimes and there's no better spokesperson to advocate the sport than Oklahoma's own Edwin Evers. With sponsors that include Bass Pro Shops, Optima Batteries, Mercury, and Lowrance, Evers has hosted and co-hosted more than 60 television shows, including Classic Patterns on the Outdoor Channel presented by Optima. During these appearances, he teaches angling techniques and promotes his loyal sponsors.
On a recent tour Rosica promoted, Evers visited Bass Pro Shops across the U.S. and gave talks and advice to enthusiastic audiences, which included aspiring fisherman and serious anglers. Our job was to motivate anglers to visit a Bass Pro Shop to meet Evers and learn tips and advice from the Elite Series pro. We accomplished this through connecting to fishermen/women through chat rooms, fishing clubs, regional angler websites and forums and other online communities. Layering the message and offering product giveaways incentivized anglers to attend and hundreds came out to see Evers.
In addition, we secured media interviews for Evers who talked about fishing as a profession and how truly challenging the lifestyle is, despite outward appearances. Evers, who came in second place in the "Angler of the Year" standings (tallied by B.A.S.S., the premier professional fishing tournament group), met hundreds of interested anglers and talked about his methods as well as the boating and fishing supplies he relies on while competing in this high stakes sport.