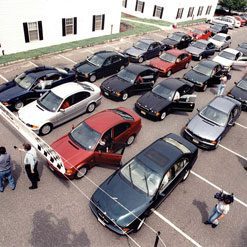 Arcnet: PR Proves to be a Powerful Employee Recruitment Tool
When ARCNET, a 50-person architectural and engineering firm based in Holmdel, NJ, gave each employee a new BMW automobile on its 10th anniversary, it was big news. Except few outside the company had heard about it. Designed to help recruit qualified employees in a tight job market, the generous offer was meant to offset more than $900,000 annually in headhunter fees and build name recognition. Yet the story received little recognition. Rosica developed an event that drove awareness to an all-time high.
We recommended lining the cars up bumper-to-bumper for a photo opportunity which attracted record media attention and droves of new applicants. Our staged, fully-scripted presentation was mailed and faxed to New York Metropolitan and national business media outlets, with extensive follow up to ensure heavy on-air traffic.
The result? Eight out of ten New York and New Jersey residents have now heard of ARCNET. Our public relations efforts resulted in over 500 million media impressions worldwide, including features on CNN, ABC TV, CBS TV, FOX, UPN9, The New York Times (two stories plus one op-ed), Parade Magazine, Associated Press, USA Today, Money Magazine, Forbes Magazine, Asahi Shimbun (Japan's Largest Newspaper), Bloomberg TV and Radio, ABC and CBS Radio Networks, Smart Money, and many more. Just as importantly, ARCNET received over 1,500 resumes within one week's time.