Evergreen Aviation: The Spruce Goose has Landed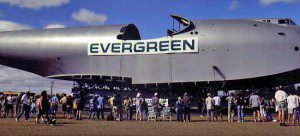 Rosica was hired to help establish Evergreen Aviation as a solid member of the Tucson community, and assist in convincing county executives to grant a 25-year lease extension for their Tucson maintenance facility in order to secure a $20 million line of credit. Rosica created a series of community-welcoming media events, including an open house at the 2,500-acre facility for area families. It featured World War II historic planes, the NASA Shuttle Plane, and an appearance by an astronaut.
Our strategy included offering various children's activities, aerobatics and stunt pilots, food, local musicians and dancers. Special invitations were given to the county executives, who were invited to fly in the company's B-17 bomber. Our efforts resulted in media coverage both before and after the event, and our client received their much needed lease extension. Following on that success, Rosica also helped raise awareness of Evergreen's capabilities in fighting wild fires by organizing demonstrations of its B747 aircraft retrofitted as a firefighting supertanker. Events held during 2009 in California, Canada, France, Germany, Greece and Spain attracted widespread media attention and established Evergreen Aviation as a leader in large scale emergency fire response.