Rustic Crust: A Mom's Best Friend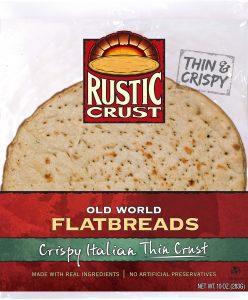 How do you make great pizza at home, with no preservatives or additives? The answer is simple: Rustic Crust.
This frozen foods brand sought to build trial and same-store sales through an influencer marketing and blogger program. Rosica leveraged its well-honed blogger database, consisting of more than 800 quality bloggers and social influencers and embarked upon an effort that landed the brand on hundreds of sites and in hundreds of social posts – building quality inbound links, executing engaging sweepstakes, and recipe submissions. We also secured influencer-generated photography and videos the company was able to repurpose on its website and social media channels.
We sampled the Rustic Crust products with culinary influencers, top mommy bloggers, and wellness/health gurus. And we secured dozens of trade media placements to aid in B2B sales, particularly focused on supermarkets. Rosica successfully promoted the brand's proprietary recipes and also created a campaign around Friday being "Make Pizza With Family Night," securing additional brand awareness.