Stew Leonard's: Making Stew Leonard's the Disneyland of Dairy Stores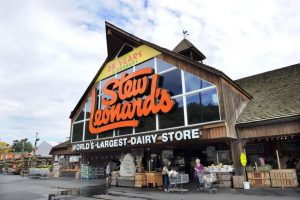 When Stew Leonard opened his now famous chain of dairy stores in Norwalk, Connecticut, he faced stiff competition. He knew the only way to succeed was to create an amazing in-store experience, with top quality products, dedicated staff, and a commitment to giving back to the community. He also knew he needed a strategic PR partner to create innovative campaigns and events that generated off-the-charts publicity coverage – and sales. He did that by hiring Rosica Communications.
In their years of working together, Rosica and Stew Leonard's made history. The iconic chain was dubbed the "Disneyland of Dairy Stores" by the New York Times, entered into the Guinness Book of World Records, and named the "#1 Tourist Attraction in Connecticut" by the State's Department of Tourism. Rosica far exceeded Stew Leonard's dreams, generating national publicity from People Magazine to USA Today, and hundreds of additional print and broadcast stories. Rosica established Stew Leonard's as an essential community partner, highlighting its charitable contributions, including food donations and scholarships. And, to advance employee retention, Rosica celebrated in-store weddings as more than 50% of employees tie the knot! We helped Stew Leonard's with crisis communications and, ultimately, partnered to build an iconic, lasting brand.