MarieBelle: Gourmet Chocolates Receive Unprecedented Earned Media Coverage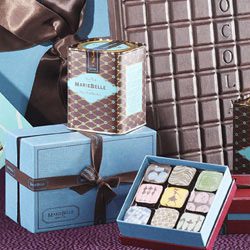 A passion for chocolate led Maribel Lieberman to open her Soho boutique which had a small, but devoted following. Yet, her luxurious handmade chocolates and confections were missing one essential ingredient: national exposure.
Rosica's public relations campaign highlighted the eclectic ingredients and artisanal techniques that make MarieBelle's creations exquisitely delicious works of art. By securing features in upscale venues like Bon Appetit, the New York Times, Washington Post, and on television networks in the New York and San Diego markets, MarieBelle experienced increased brand awareness and exposure to its target market and beyond.
Since working with Rosica, MarieBelle's business has expanded by over 45 percent. Sales at the flagship store in Manhattan increased dramatically while orders from key retailers and online customers grew. Today, MarieBelle's chocolates and sweets can even be found in London, Paris and at their newest location in Kyoto, Japan.