Horatio Alger Association: Promoting Thought & Youth Leadership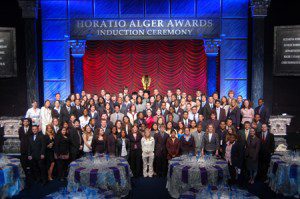 For five consecutive years, Rosica organized and executed an annual news conference for the Horatio Alger Association of Distinguished Americans to announce its "State of Our Nation's Youth" survey. We recommended holding the news conference at the National Press Club in Washington, D.C., where events can be broadcast via satellite to reach the entire nation. Rosica not only provided on-site media event management but developed the media strategy (which included a student panel at the event to speak about the survey's findings), offered logistical support, media trained all spokespersons, rehearsed the youth panelists, wrote bios for each panel member, and, most importantly, executed an aggressive media relations effort.
Each year we secured tremendous coverage; in fact, we consistently generated between 300 million and 600 million media impressions per event. Coverage included a Parade Magazine cover story, appearances on ABC's "Good Morning America" and "CBS This Morning," plus earned media placements with the Associated Press, National Public Radio, "NBC Nightly News," PBS NewsHour, C-SPAN, Bloomberg, MSNBC, ABC Radio Network (national distribution), Education Week, plus hundreds of other radio, major market newspaper, and online media placements. For Rosica's media relations strategy and results, the Public Relations Society of America (PRSA) honored the agency with a Pyramid Award.