Newark Public Library: Check Out Philip Roth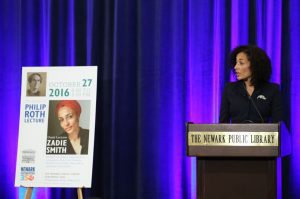 As Philip Roth fans know, Newark, New Jersey, figures prominently in his writing and the acclaimed author is often described as the "Son ofNewark." The protagonist in Roth's debut novel, Goodbye Columbus, worked in the Newark Public Library, so it made sense when Roth announced that he was contributing his entire personal collection of more than 3,500 volumes to the library. Given our expertise in the education and non-profit fields, the Library engaged Rosica to manage and publicize the historic news.
We immediately gave The New York Times the opportunity to develop an embargoed story. The result was an in-depth piece titled, "Philip Roth's Books Coming Home to Newark." We reached out to other print, digital, trade and broadcast media, generating widespread coverage on NPR, WBGO, The Star-Ledger, NJ.com, Comcast Newsmakers TV, Library Journal and The Jewish Daily Forward.
The publicity blitz helped contemporize the Library and heighten its visibility as a literary destination. As The New York Times reported, the Newark Public Library became Mr. Roth's other home. "I was always in the reference room. I haunted it," Mr. Roth told the Times. In the future, all of his books will make themselves at home there.