PedEgg: Robust PR Campaign Puts Feet First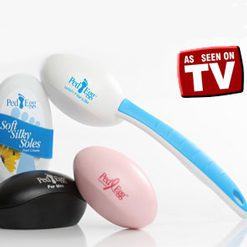 Much went into product promotion and Rosica's PR and marketing efforts on behalf of the PedEgg™. This was an aggressive campaign across three fronts – social media, online reputation management and public relations, and traditional PR. We sent hundreds of samples of the egg-shaped pedicure device, designed to fit into the palm of a hand, to journalists at top-tier print and broadcast media outlets plus high-level influencers and bloggers covering lifestyle, motherhood, weddings/honeymoons, spa, beauty/pampering, running, and general fitness.
Product placements and reviews were overwhelmingly positive and emphasized the key attributes of the PedEgg as a less expensive DIY alternative to professional treatments for keeping feet smooth, healthy, and looking great. In addition, Rosica worked with celebrity pedicurist Jin Soon who became a brand ambassador for the PedEgg and was quoted and interviewed in and by media. Among highlights of the campaign was a demonstration of the product on ABC's "The View." When the segment aired, Walmart stores around the U.S. sold out of PedEgg. Through analytics, the company saw a spike in sales due to PR; earned media attribution was approximately 35%, driving consumer demand and retailer orders.