Robust PR Campaign Puts Feet First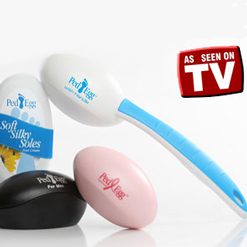 Much goes into product promotion and Rosica's public relations efforts on behalf of the PedEgg™ involved an aggressive campaign across three fronts: social media; online PR; and traditional PR. Samples of the egg-shaped pedicure tool designed to fit into the palm of a hand for easy use was sent to journalists at traditional media outlets plus 500 bloggers specializing in topics related to motherhood, weddings and honeymoons, lifestyle, fitness, running and other sports.
Product reviews were overwhelmingly positive and emphasized the key attributes of the PedEgg as a less expensive alternative to professional salons for keeping feet smooth, healthy and looking great. Rosica partnered with celebrity pedicurist Jin Soon who acted as an advocate for the PedEgg in media interviews. Among highlights of the campaign was a demonstration on "The View" television program. PedEggTM sales jumped 35% after coverage on the top rated ABC talk program.