Finally Light Bulb: New Product Launch That Lit Up Retailer Interest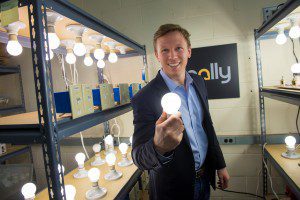 When the U.S. government banned the environmentally-unfriendly incandescent light bulbs consumers had relied upon for years, most people were caught off guard. They'd taken the warm simplicity of incandescent lighting in their homes for granted and were confused or disappointed by their replacement options: harsh compact fluorescent bulbs (CFLs) or more costly LEDs.
Enter the Finally Light Bulb Company with a breakthrough in residential lighting technology: the Acandescent™ Light Bulb. This innovation was the brainchild of serial entrepreneur John Goscha and his team of lighting industry top talent, and had enormous potential to rock the industry. This shaped Rosica's media relations strategy, which was to secure an exclusive placement with the most influential outlet for the target audience: The New York Times. Given that the product was an unknown, Rosica knew the reporter had to "see it to believe it" and arranged a visit to the company's manufacturing facility.
The resulting in-depth piece brought instant credibility to Finally and spurred a stream of critical trade, business and consumer publicity. Rosica's emphasis shifted to consumer media that would reach the female household decision maker. This initiative generated results that ranged from a spotlight in House Beautiful to being deemed "Best New Products of 2014" by This Old House magazine.