Easterseals: Changing Perception of People with Disabilities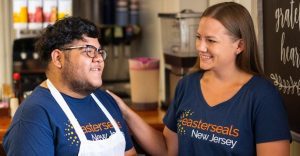 For its 100th anniversary, Easterseals New Jersey (ESNJ) called upon Rosica to elevate awareness for people with disabilities and the stigma they face. We employed a two-pronged strategy to support the nonprofit's mission of improving the lives of those with disabilities and their caregivers' by giving them chances to live, learn, work, and play. Our PR agency approach encompassed an education campaign and a storytelling initiative to produce substantive interviews and op-eds; broadcast features on Easterseals' special events; and uplifting human interest stories. This strategy elevated ESNJ's stature and created a wellspring of awareness and support for those with disabilities.
For the educational component, we arranged numerous interviews and op-ed opportunities for ESNJ President and CEO, Brian Fitzgerald, to advocate on behalf of his constituents. He pushed for legislation to protect funding and services for direct support professionals and lobbied to ensure Telehealth services for those who need them the most during the pandemic. Our publicity gave Fitzgerald and his nonprofit a voice in influential outlets like nj.com, NJ Spotlight, and MyCentralJersey.com. To make the topic relevant to New Jerseyans, we highlighted the fact that one in four Americans has a disability and showed how ESNJ brings them independence, dignity, and hope. We told stories of people whose lives have been transformed through Easterseals, like the man who was released after many years in prison and emerged with significant mental health issues. Today he is happily established in his own apartment and credits his Easterseals caseworker for his new life. We also publicized ESNJ's Exercises in Empathy program – pop-up events that simulated what it's like to suffer from mental health issues and to lip read. Collectively, the campaign generated dozens of articles throughout the state that ESNJ leveraged for stakeholder communications, social media, resource development, search engine optimization, and content marketing.