The Salvation Army Greater New York Division: Bringing an Army of COVID-19 Relief to New Yorkers to Rescue Christmas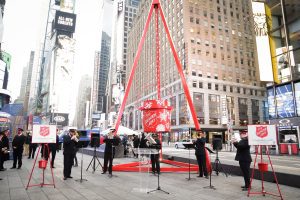 When COVID-19 hit New York, it hit hard. Millions of people – many for the first time – found themselves hungry, out of work, and with nowhere to go. Countless groups stepped up to assist, but only one already had an army in place to serve those in need: The Salvation Army. Rosica, a longtime PR partner with The Salvation Army, mobilized a high-profile media relations effort to raise awareness of The Salvation Army's herculean efforts and issued a call for contributions, partnerships, and volunteer support. Rosica's teamwork with The Salvation Army (TSA) brought life-saving services to millions of New Yorkers and rescued Christmas for children and families throughout New York.
We started by leveraging data: Within the first six months of the pandemic, TSA served more than 5 million meals compared to the 3.5 million served in all of 2019. We brought this story to life by publicizing broad-scale food distribution events, including Thanksgiving relief efforts, generating dozens of NYC broadcast segments and articles, including a compelling op-ed in Newsday. We coached spokespeople to deliver clear and consistent messages and provided media training to effectively prepare them for interviews.
We promoted a virtual Rescue Christmas campaign, which reshaped the organization's annual Christmas Red Kettle fundraising initiative and delivered a clear call to action. But even this was not enough. The need in New York was so great that TSA created a giant Red Kettle that stood 32 feet tall in its stand and placed it in Times Square. In a blockbuster unveiling event, Rosica generated a sweep of New York television stations to cover the event, plus leading national media, including segments and stories on Good Morning America, Associated Press, WNBC, WABC, independent TV stations, and dozens of other media outlets. But we didn't stop there. One week later, Rosica publicized a stealth move by TSA to dress up Wall Street's Fearless Girl with a Salvation Army uniform and miniature Red Kettle. This generated additional national and NYC coverage, including ABC-TV's social media, UPI, Getty Images, plus three NYC television segments.