Hurley Medical Center: Protecting a Hospital's Reputation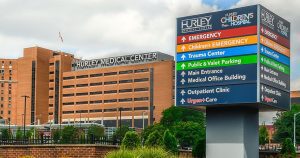 Hurley Medical Center had a breach of security that had the potential to negatively impact consumer sentiment. In an unexpected theft, one of its laptop computers with 2,000 patient names was stolen from a testing area. Although it contained no Social Security numbers or insurance information, it did include addresses and dates of birth. Quick action was required to avert a major public relations epidemic.
Rosica crafted letters for distribution to all employees, the board of directors and the Secretary of Human Services in Washington, DC. We developed talking points for the corporation's CEO and IT manager. Long before matters worsened, Rosica conducted a news conference and invited media for a candid report of exactly what had occurred. Emphasizing what was NOT in the computer, our prompt response reassured the public and media outlets reported the story exactly as Rosica had planned. Negative fallout was completely avoided.