Moore Medical: Recognizing First Responders Build and Sell a B2B Healthcare Brand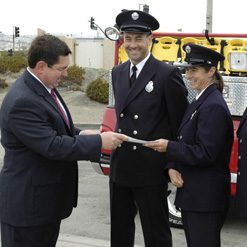 Although well known as a trusted resource for medical supplies, Moore was seeking increased brand awareness in a competitive marketplace. After hiring Rosica to help drive product sales, we positioned the company as an educational resource and advocate for Emergency Medical Technicians (EMT) and Emergency Medical Services (EMS) personnel.
In order to help spur sales, Rosica introduced the "Moore Medical Valor Award," recognizing exceptional heroism in the line of duty. Rosica then managed the entire process, from identifying prospective awardees, to creating and coordinating the judging panel and selection process. As winners were selected, our agency conducted media outreach and executed events attracting media coverage in targeted markets. We also promoted various Moore Medical products, securing numerous business stories while managing the company's investor relations programs.
The award and associated publicity helped open the Boston market for the company. Garnering placements in the Boston Herald, the Patriot-Ledger, the Boston Metro and the CBS and Fox affiliates, Moore Medical was able to reach 85% of Boston Media Market. These placements led to sales of more than 25%, while securing Moore as a supplier to the city's emergency medical service department. EMS sales also increased nationwide, firmly positioning Moore Medical as the company who cares about EMS workers — a group often overlooked in favor of police and fire personnel. Overall, our efforts culminated in the successful and profitable acquisition by McKesson Corporation, with results that significantly exceeded investor expectations.